Do you want to celebrate the beginning of your "happily ever after" in a tropical paradise? The Alabama Gulf Coast is the perfect spot for you! Our picture-perfect area is filled with sugar-white sand beaches, beautiful weather, breathtaking sunsets, and plenty of fantastic local venues, businesses and vendors. Plan the perfect beach wedding with our Gulf Shores wedding checklist.
Are you extending your stay in Gulf Shores, AL, before or after your big day? Bypass scrolling through Google to find the activities and services you may need. Let our team do the searching for you, so you can focus on what matters most: making unforgettable memories with your loved ones.
Our
Gulf Shores Wedding Checklist
1. Get Your Marriage License
If you're an Alabama resident and planning your Gulf Shores wedding, you'll need to get your license in your home county or at the Baldwin County Courthouse in Bay Minette. The address for the courthouse is 220 Courthouse Square, Bay Minette, AL 36507, and the phone number is (251) 937-0260. To receive your license, you'll need to bring two forms of identification, such as a certified copy of your birth certificate and a valid driver's license. The marriage license itself costs $70.00.
2. Pick Your Ceremony Location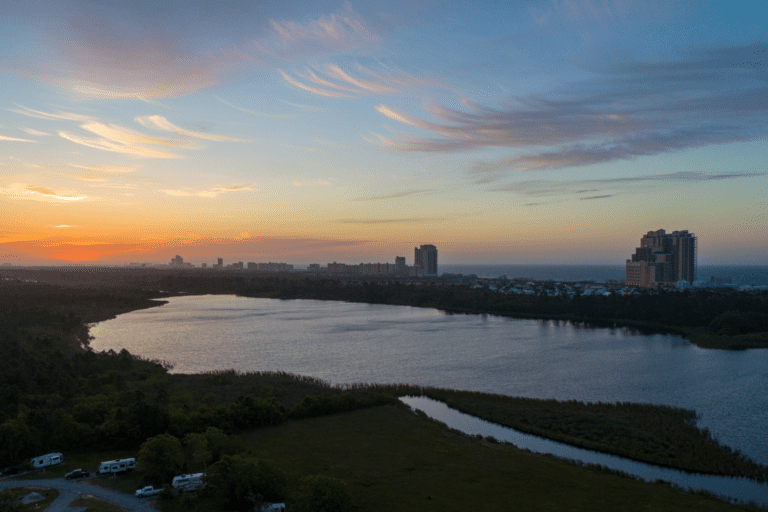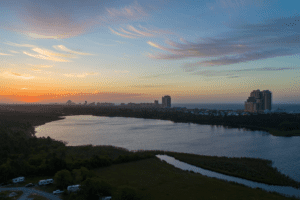 With our out-of-this-world scenery, Gulf Shores weddings are unlike any other.
If you're having a smaller ceremony (10 – 20 people), renting an oceanfront property and having the wedding right there may be the best option. Our luxurious properties in Fort Morgan are perfect because they are more secluded and uncrowded. You could have the whole beach to yourself!
If your party is going to be larger, consider having the ceremony at one of the gorgeous State Park beaches, like Gulf State Park Beach. You will need to contact them for a permit. They also have venues to host the wedding ceremony and/or the reception.
If you're searching for a more traditional ceremony location with amenities, our area is filled with many stunning churches, historic homes, event centers, golf clubs, and more.
3. Find a Photographer
for Your Gulf Shores Wedding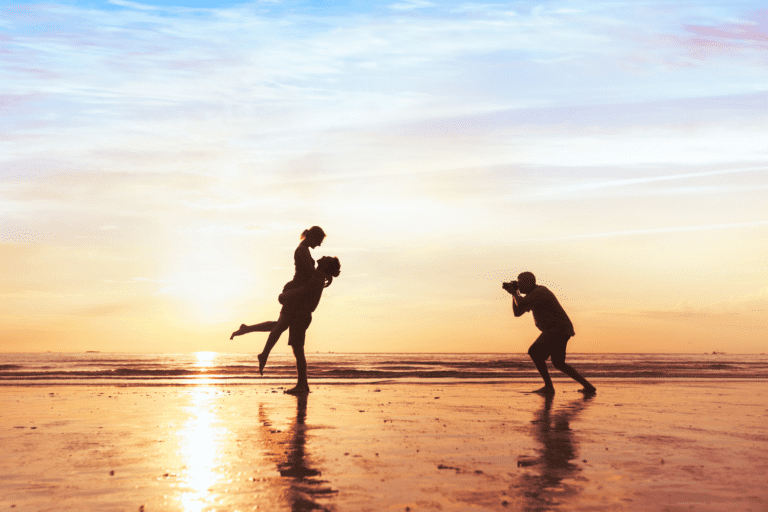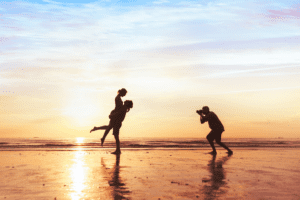 If you're planning a wedding on the beach, the best time to hold the ceremony is generally around sunset, when you'll encounter the best light for photography. Nothing beats golden hour! Local photographers like the ones listed below can help you plan the perfect shots for your wedding.
Paisley Studios Photography
Julie Adamson:
Paisleystudiosphotography.com
(251) 622-8085
Andrea McDaniel Photography:
ajmphotography.net/
(850) 687-5773
Shore Shooters Beach Photography:
232 Professional Court, Gulf Shores, AL 36542
(866) 856-2435
AJM Photography:
101 E Beach Blvd, Gulf Shores, AL 36542
(850) 687-5773
Your Dream Beach Wedding:
160 Cotton Creek Dr. Suite 270, Gulf Shores, AL 36542
(850) 559-5560
4. Choose an Officiant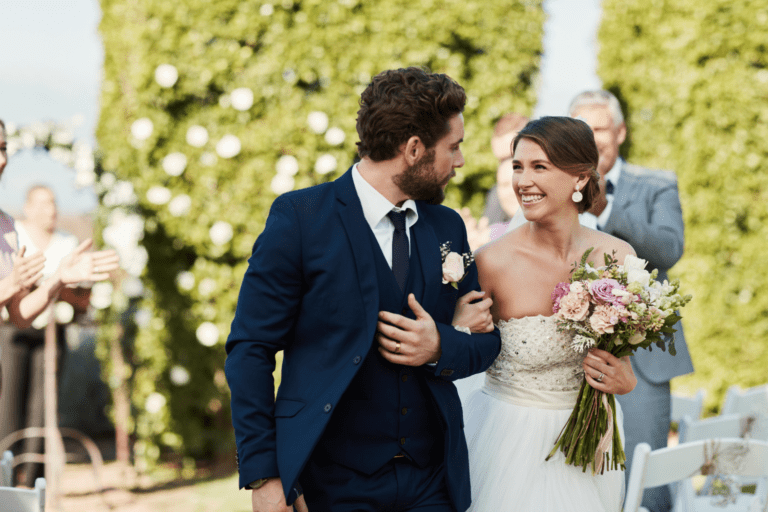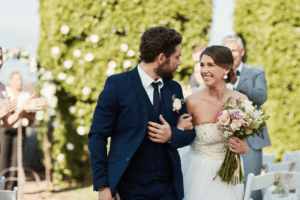 In Gulf Shores, you'll also find a number of ministers, wedding planners, and officiants eager to assist you with your big day. Below, we've put together a list of a few great businesses to help you get started.
A'Gape Wedding Service:
(251) 709-8220
Tammi May – Ordained Minister:
800-215-6695
Gulf Coast Wedding Minister:
(251) 709-5007
Gulf Shores Wedding Officiant:
(352) 232-9112
5. Hire a Wedding Planner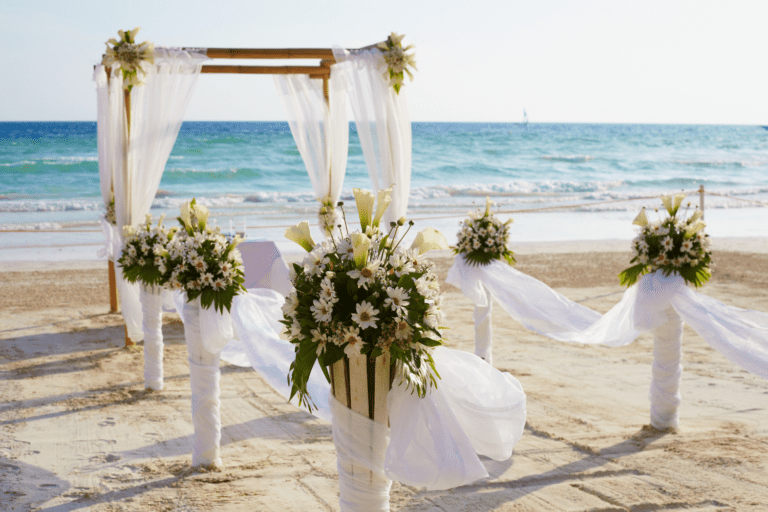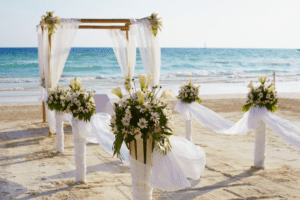 We know that wedding planning can be overwhelming and stressful—it shouldn't be, though! Make this day as magical as possible and hire someone to offer you wedding planning services. These local businesses offer wedding planners, in addition, to help with reception venues.
Southern Sass Weddings & Events – Intimate Beach & Vintage Weddings:
Tammi May
southernsass.weddings@yahoo.com
Big Day Weddings:
orangebeachgulfshoresweddings.com
(251) 223-7430
Sand Dollar Beach Weddings & Receptions:
sanddollarbeachweddings.com
(251) 223-9013
Let Harris Vacation Rentals Help You with Your Dream Gulf Shores Wedding!
Contact our reservation specialists to find out more information on the best spots in Gulf Shores for breathtaking weddings and other extraordinary touches you can add to your special day. Browse our collection of top-notch vacation rentals and find the perfect property to call your home base while you're in Gulf Shores for your wedding.